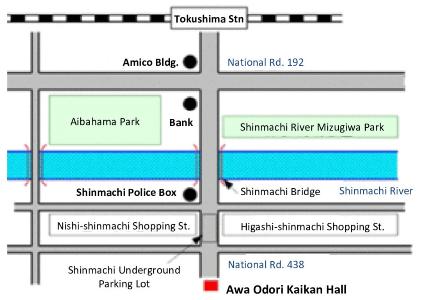 The Awa Odori has a 400-year-long history and is considered a valuable asset and tourism resource of Tokushima. The Awa Odori Kaikan Hall was built to preserve and share the history of the Awa Odori, as well as to be a new, year-round, permanent facility for tourism.
In this facility, you can find Awa Odori dance demonstrations, learn about the history of the dance, as well as find tourism guides and information sources about sightseeing spots throughout the prefecture.
2-chome-20, Shinmachibashi, Tokushima City
Steel frame, reinforced concrete. 1 basement floor. 5 above-ground floors.
5F: Bizan Ropeway bottom station
4F: Activity room
3F Awa Odori Museum
2F: Awa Odori hall, library, gallery
1F: Souvenir shop/display, information corner
B1F: Parking, storage
Facility Hours (Performances/Ropeway Hours):
9:00~17:30 (from April 1-October 31 the ropeway operates until 21:00. Between August 12~15 the ropeway operates until 22:00)
9:00~17:00
Noontime/afternoon performances (Awa Odori Hall)
11:00~
14:00~
15:00~
16:00~
Evening performance (Awa Odori Hall)Everyday from 20:00~20:50
"Arudeyo Tokushima" (souvenier shop)
9:00~21:00 (from December 21~27 and January 2~10 the shop is open from 9:00~18:00)
Facility Holidays/Closed Days
The 2nd Wednesday in June, October, and Febuary (if this day falls on a national holiday, the Awa Odori Kaikan Hall will be closed the day following the holiday)
Note 1: In addition to the days above, the Awa Odori Kaikan will be partially closed during August 11~15 (there will be special performances held from August 12~15)
Note 2: In addition to the days above, the souvenier shop (Arudeyo Tokushima) will be closed from Dec. 28~Jan. 1.
Note 3: The Awa Odori Kaikan Hall and Bizan Ropeway may be closed on days where there is maintenance or inspections

https://awaodori-kaikan.jp/en/(外部サイト)
お問い合わせ
総務課
〒770-8571 徳島県徳島市幸町2丁目5番地(本館6階)
電話番号:088-621-5021
ファクス:088-654-2116
この情報はお役に立ちましたか?
お寄せいただいた評価はサイト運営の参考といたします。